Fidelity International. Webinar: Net Zero needs Decarbonisation Solutions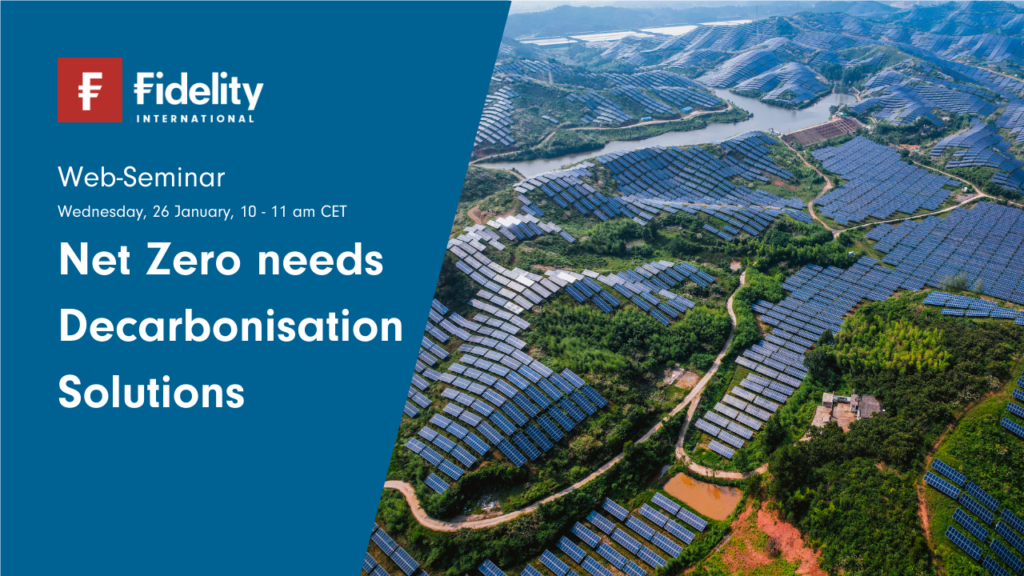 FOR PROFESSIONAL INVESTORS ONLY
Despite global cooperation on climate change, a chasm remains between government plans to cut emissions and the shared goal of net zero by 2050. Nascent decarbonisation solutions may help bridge the gap.
The potential for growth in decarbonisation technologies is huge, with rising demand and widening application across multiple industries. The world desperately needs these technologies and, fortunately, some financial and policy support is beginning to flow through, but much more needs to be done.
We invite you to join this digital event and listen to our sustainability research analyst and two of our sustainable fund portfolio managers, discussing investment opportunities developing from innovation momentum on the back of COP26 pledges, Net Zero targets and climate transition needs on 26 January 2022, 10:00 am CET. The event is interactive. You are cordially invited to ask questions during the Q&A session via the chat function.
Speakers:
• Velislava Dimitrova, Sustainable Equities Portfolio Manager
• Kris Atkinson, Sustainable Bonds Portfolio Manager
• Glenn Anderson, Sustainable Investing Analyst
• Jürg Furrer, Head of Wholesale, Switzerland (Moderator)
AFTER SIGNING UP YOU WILL RECEIVE A CONFIRMATION EMAIL WITH A LINK TO PARTICIPATE IN THE LIVE WEB-SEMINAR.
Coste de entrada: evento gratuito